Since I love my shoes, I'm going to dedicate some time to them whenever one is, well, beyond repair. The last I counted, I must have owned 30++ pairs of shoes (excluding sports wear and slippers).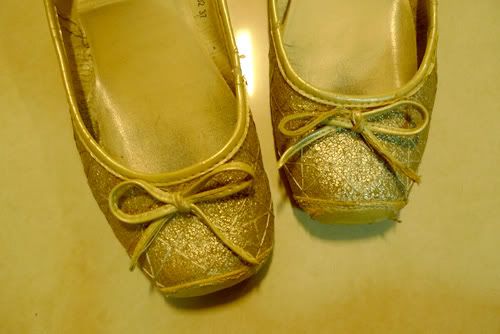 R.I.P 2 - 02 - 2010
I remember buying this pair at a real bargain (>$20) at one of those sales held at Expo, maybe 2 -3 years ago... They were forgotten for some time, and I recently found them again... in a near-hopeless state. Soles were flipping, but I liked them too much to throw them away, so Daddy glued them back for me. But just after one wear, they came off again and I decided it was time to say goodbye.
They have served me well. Reminds me of ballet shoes, and I especially love the
matt gold
colour. They were superbly comfortable and goes with almost everything in my wardrobe!