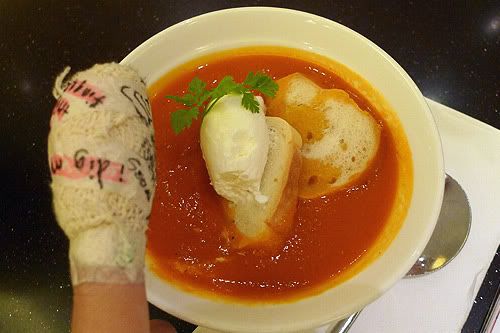 Doesn't my fat wrapped up finger looks like that lump of cream on top of the soup?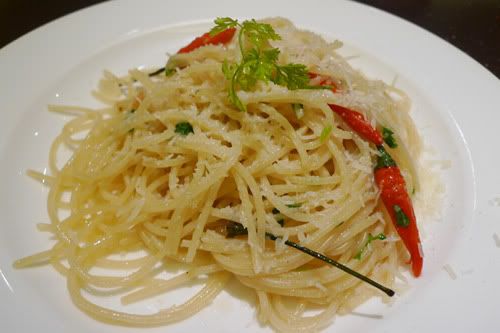 Bakerzin
United Square // Novena MRT
I was there with colleagues Laurel and Detong, after visiting another colleague at Tan Tock Seng hospital nearby. Needless to say, I had my all-time favourite Aglio Olio pasta. It was really tasty, portions were just nice and reasonably priced at S$7.80 (exclud. GST). I need to master the perfect Aglio Olio; I could probably eat it everyday!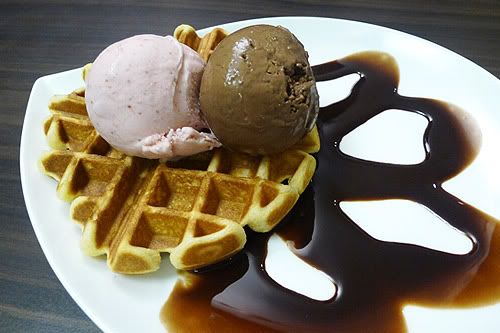 Udders
A stone's throw away from United Square or Novena MRT
Flavors we tried:
Mao Shan Wang Durian
S$5.40 for a single scoop (Connoisseur Range)
I was apprehensive about trying it at first. I mean, durian and ice cream??! Well, it tastes strangely like the real fruit (in a good way). And you know what? I actually like the taste of it. A definite must-try for durian-lovers; can't wait to bring Mathias here in May. Yes! He's finally coming!
Strawberry Fields + Awesomely Chocolate on waffles
S$5.40 for double scoops + S$2.50 for waffles
Strawberry Fields
has a light, fruity feeling to it and it was not too sweet, which was what I like about it.
Awesomely Chocolate
has a really strong dark-chocolatey taste and slight bitter aftertaste (well, it's dark chocolate afterall) but I kinda like it anyway.
Well, ice cream was probably not the best idea RIGHT AFTER a heavy pasta meal (I had pasta for lunch too), but I enjoyed it anyway. Yum yum! Can't wait to have pasta again.