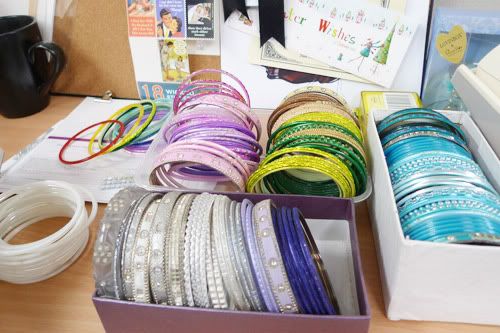 Weeks ago, a colleague brought a box full of Indian bangles she did not need anymore, after spring cleaning her house (I really need that). I was obviously very excited at the sight of colourful things. What you see in the picture above is only a quarter of what she brought in. Not alot of the bangles were taken as it was all jumbled up and mismatched; so I spent quite some time mixing and matching different delicious-looking combination for myself and other colleagues. In the end, every single bangle found themselves an owner. I tell you, it's all about packaging.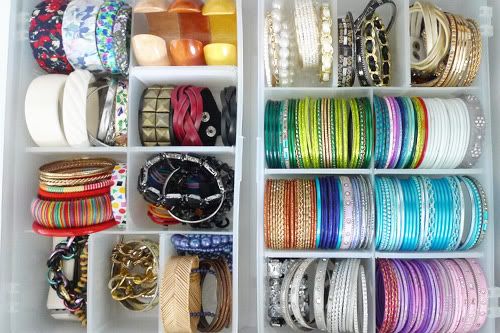 My own collection of bangles. I'm ashamed to say this, but I hardly wear them. And yes, a bit of the OCD as you can tell.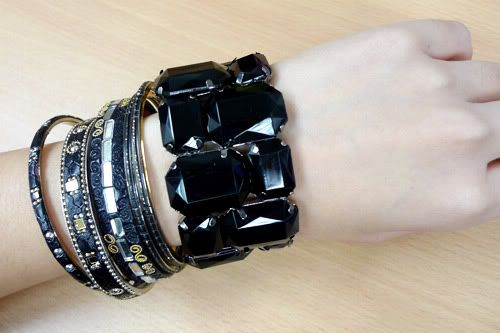 I did wear this combination out though, and it was quite noisy. I removed it while I'm at work because, imagine the noisy-enough-on-its-own bangles hitting the tables when I move my mouse.
I've also added 3MM hooks on the door of my wardrobe for hanging my chunky necklaces, in an effort to try to wear them more. Kind of noisy when I open the wardrobe door, but I like it there anyway. When i get dressed, the necklaces are all there at one glance and I can conveniently grab and go.