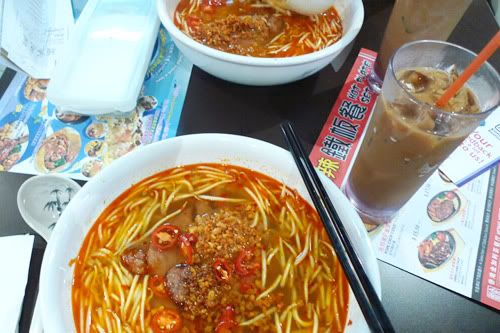 I was famished by the time Xiuwei called me for dinner (she had just gotten off from work).
Kim Gary Hong Kong Cafe
Tampines One, B1 (right beside entrance) // Tampines MRT
We ordered the same thing, some spicy pork cutlet noodle soup thingy (can't remember the name) which looks really spicy but
shiok
in the menu's picture. It was a HUMONGOUS bowl. Literally littered with 50% bean sprouts, 3 super large pieces of pork cutlet and was really not half as spicy as it looks. The soup wasn't tasty and I thought it was rather diluted. The picture in the menu probably raised our exceptions a little bit too much.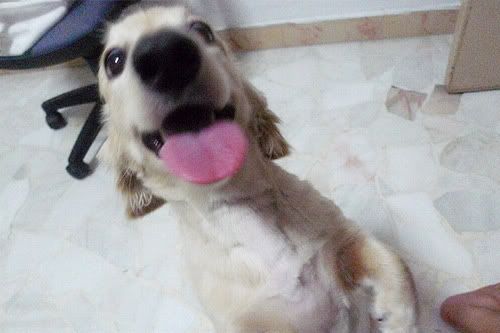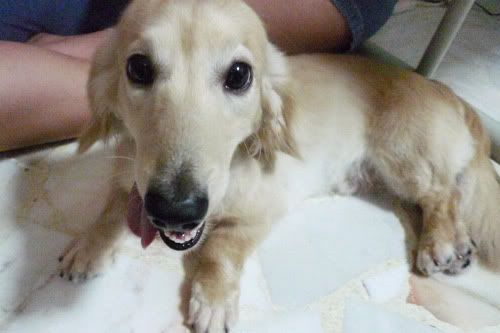 After dinner, it was off to Xiuwei's house to see her overly-excited sausage dog Cereal, who never fails to pee whenever I touch him (this time was no exception; he even peed twice). Well, I guess he's still kind of a baby (about a year old) and probably not used to visitors. It was funny seeing him scrambling around madly with his super short legs with his tongue hanging out by the side, but he's really cute and quite a darling (except for the peeing part).